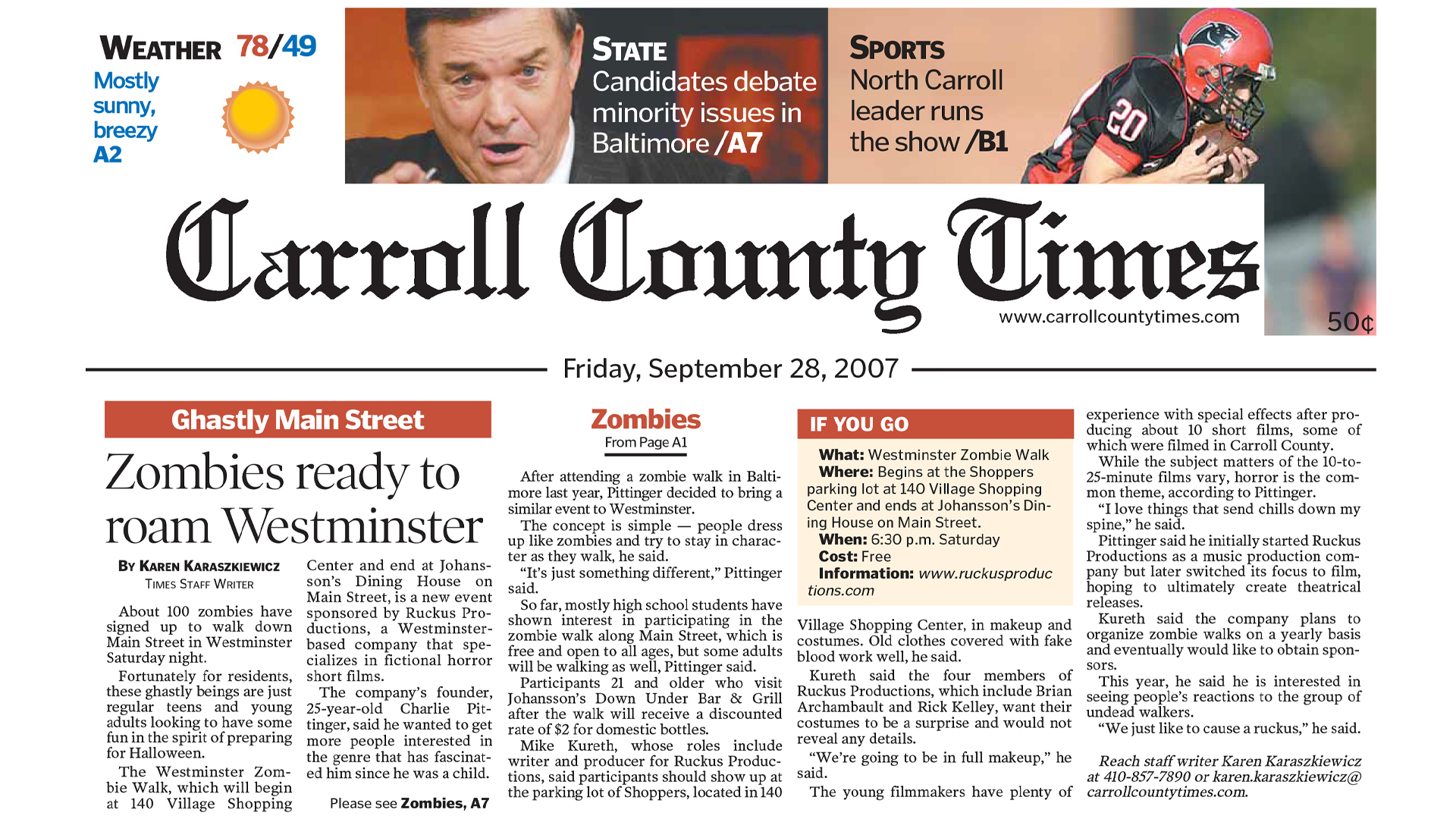 Carroll County Times interview with Michael Kureth
Media Coverage - Carroll County Times
Published: Sep 28, 2007
---
Carroll County Times interview with Michael Kureth
Friday, September 28, 2007
Zombies ready to roam Westminster
Ghastly Main Street
About 100 zombies have signed up to walk down Main Street in Westminster Saturday night.
Fortunately for residents, these ghastly beings are just regular teens and young adults looking to have some fun in the spirit of preparing for Halloween.
The Westminster Zombie Walk, which will begin at 140 Village Shopping Center and end at Johansson's Dining House on Main Street, is a new event sponsored by Ruckus Productions, a Westminsterbased company that specializes in fictional horror short films.
The company's founder, 25-year-old Charlie Pittinger, said he wanted to get more people interested in the genre that has fascinated him since he was a child.
After attending a zombie walk in Baltimore last year, Pittinger decided to bring a similar event to Westminster.
The concept is simple — people dress up like zombies and try to stay in character as they walk, he said.
"It's just something different," Pittinger said.
So far, mostly high school students have shown interest in participating in the zombie walk along Main Street, which is free and open to all ages, but some adults will be walking as well, Pittinger said.
Participants 21 and older who visit Johansson's Down Under Bar & Grill after the walk will receive a discounted rate of $2 for domestic bottles.
Mike Kureth, whose roles include writer and producer for Ruckus Productions, said participants should show up at the parking lot of Shoppers, located in 140 Village Shopping Center, in makeup and costumes. Old clothes covered with fake blood work well, he said.
Kureth said the four members of Ruckus Productions, which include Brian Archambault and Rick Kelley, want their costumes to be a surprise and would not reveal any details.
"We're going to be in full makeup," he said.
The young filmmakers have plenty of experience with special effects after producing about 10 short films, some of which were filmed in Carroll County.
While the subject matters of the 10-to25-minute films vary, horror is the common theme, according to Pittinger.
"I love things that send chills down my spine," he said.
Pittinger said he initially started Ruckus Productions as a music production company but later switched its focus to film, hoping to ultimately create theatrical releases.
Kureth said the company plans to organize zombie walks on a yearly basis and eventually would like to obtain sponsors.
This year, he said he is interested in seeing people's reactions to the group of undead walkers.
"We just like to cause a ruckus," he said.
Reach staff writer Karen Karaszkiewicz at 410-857-7890 or karen.karaszkiewicz@carrollcountytimes.com.
Print ready version available here:
2007-09-28-carroll-county-times-michael-kureth.pdf
Full version available here:
2007-09-28-carroll-county-times-michael-kureth-full.pdf