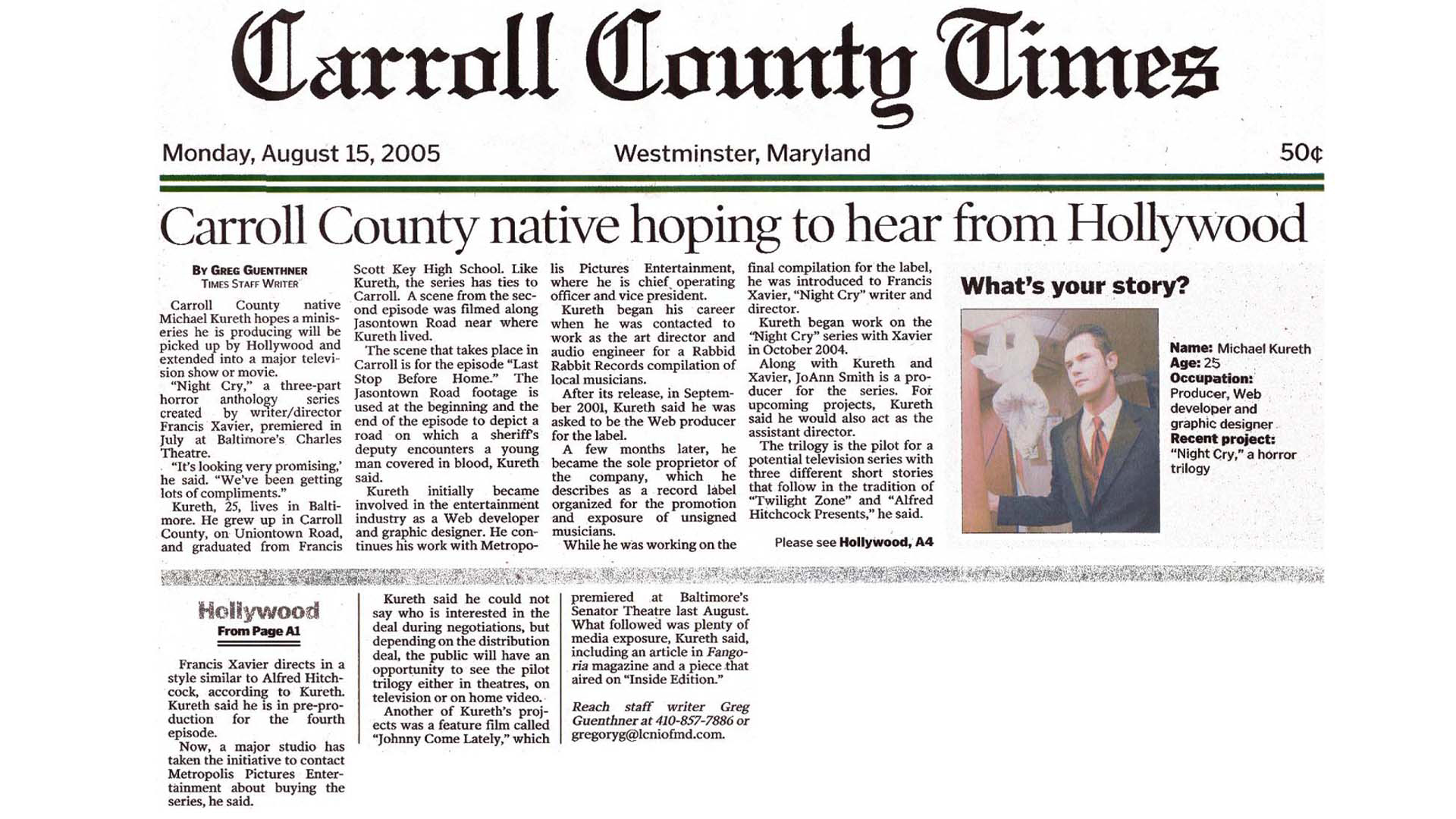 Carroll County Times interview with Michael Kureth
Media Coverage - Carroll County Times
Published: Aug 15, 2005
---
Carroll County Times interview with Michael Kureth
Monday, August 15, 2005
Carroll County native hoping to hear from Hollywood
Carroll County native Michael Kureth hopes a miniseries he is producing will be picked up by Hollywood and extended into a major television show or movie.
"Night Cry," a three-part horror anthology series created by writer/director Francis Xavier, premiered in July at Baltimore's Charles Theatre.
"It's looking very promising,' he said. "We've been getting lots of compliments."
Kureth, 25, lives in Baltimore. He grew up in Carroll County, on Uniontown Road, and graduated from Francis Scott Key High School. Like Kureth, the series has ties to Carroll. A scene from the second episode was filmed along Jasontown Road near where Kureth lived.
The scene that takes place in Carroll County is for the episode, "Last Stop Before Home." The Jasontown Road footage is used at the beginning and the end of the episode to depict a road on which a sheriff's deputy encounters a young man covered in blood, Kureth said.
Kureth initially became involved in the entertainment industry as a Web developer and graphic designer. He continues his work with Metropolis Pictures Entertainment, where he is chief operating officer and vice president.
Kureth began his career when he was contacted to work as the art director and audio engineer for a Rabbid Rabbit Records compilation of local musicians.
After its release, in September 2001, Kureth said he was asked to be the Web producer for the label.
While he was working on the final compilation for the label, he was introduced to Francis Xavier, "Night Cry" writer and director.
Kureth began work on the "Night Cry" series with Xavier in October 2004.
Along with Kureth and Xavier, JoAnn Smith is a producer for the series. For upcoming projects, Kureth said he would also act as the assistant director.
The trilogy is the pilot for a potential television series with three different short stories that follow in the tradition of "Twilight Zone" and "Alfred Hitchcock Presents," he said.
Francis Xavier directs in a style similar to Alfred Hitchcock, according to Kureth. Kureth said he is in pre-production for the fourth episode.
Now, a major studio has taken the initiative to contact Metropolis Pictures Entertainment about buying the series, he said.
Kureth said he could not say who is interested in the deal during negotiations, but depending on the distribution deal, the public will have an opportunity to see the pilot trilogy either in theatres, on television or on home video.
Another of Kureth's projects was a feature film called "Johnny Come Lately," which premiered at Baltimore's Senator Theatre last August. What followed was plenty of media exposure, Kureth said, including an article in Fangoria magazine and a piece that aired on "Inside Edition."
Reach staff writer Greg Guenthner at 410-857-7886 or gregoryg@lcniofmd.com.
Print ready version available here:
2005-08-15-carroll-county-times-michael-kureth.pdf
Full version available here:
2005-08-15-carroll-county-times-michael-kureth-full.pdf